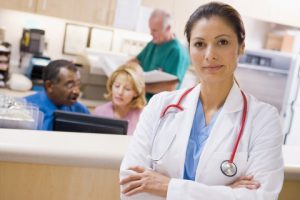 A medical malpractice lawyer is someone who is a legal expert in personal injury law with a specific focus on injuries related to the medical field. This is a type of claim in which the plaintiff (person injured) files a claim against the defendant (typically someone in a medical position, such as a doctor, nurse, or other staff) to seek compensation for physical and emotional damages caused by the negligence of the defendant.
In general, medical malpractice occurs when a person is injured because medical personnel failed to do their job correctly. This does not include known risks for medical procedures but rather a result of a mistake that should've been avoided.
According to the Los Angeles Times on May 3, 2016, "Medical errors are the No. 3 cause of death in the U.S. At least 250,000 deaths each year can be attributed to medical care that has gone awry."
Girvin & Ferlazzo are local medical malpractice lawyers in Albany who strive to help the plaintiffs file successful lawsuits in the interest of their health. Our lawyers are not the sue happy type of people who try and dupe the medical community into giving money to unworthy patients. Our lawyers are equipped with the legal knowledge and passion for working with the patients who were injured because of negligence on behalf of the medical expert.
Who Should Hire A Medical Malpractice Lawyer?
Since a medical injury can happen to anyone who is exposed to a medical workplace, there are no restrictions to who can experience medical malpractice. Therefore, anyone who has experienced malpractice is eligible to file a medical malpractice lawsuit and should hire a lawyer.
We commonly work with medical malpractice cases in these areas:
Nursing home negligence
Defective medical devices
Recalled drugs
Hospital negligence
Medical negligence
Misdiagnosis or failure to diagnoses
If you, or someone you know, has experienced one of these events, you should work with a medical malpractice lawyer who can help you file the proper legal case.
Some people say they don't want to file a medical malpractice case because they don't want to inconvenience the medical professionals. However, if a doctor, nurse, or other medical staffer isn't held accountable for the actions that failed in your case, they could injure or kill other people with the same actions. For the sake of yourself and for all patients who follow you, please consider filing a medical malpractice lawsuit when the situation requires it.
When To Hire A Medical Malpractice Lawyer
It is best to hire a medical malpractice lawyer as soon as the incident happens. The sooner, the better in these cases because the stories are fresh in all involved parties' minds, evidence is easier to collect, and a stronger case can be built.
Moreover, if you must wait, do not procrastinate forever. The Statute of Limitations in New York give certain time frames that lawsuits may be filed for specific cases. Most of the Statute of LImitations time frames are at least one year following the incident, and some have no time limit at all. Don't miss your deadline to file a case, and speak with one of our medical malpractice lawyers today.
Request a free consultation today with our medical malpractice lawyers in Albany. We are your legal advocates on the road to recovery.